---
Dr. Karlton H. Pfann D.V.M: Owner/Veterinarian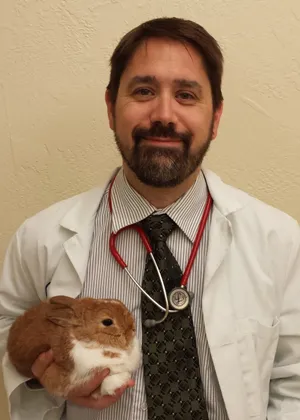 Dr. Karlton Pfann was born and raised in Ithaca, New York. He graduated from Cornell University in 1989 with a Bachelor of Science degree. After working a few years in the field of biotechnology, he attended UC Davis School of Veterinary Medicine. He has been practicing small animal veterinary medicine here in beautiful Sonoma County since graduating in 1998, and he has a well-known passion for exotic mammal medicine.
Dr. Pfann and his wife Michelle (who grew up in Forestville) have 2 children, Kieran and Colton. Their household also includes six cats - Ping, Amy, Curry, Edwin, Boba and Baby Two-Thirds. During his down time, Dr. Pfann enjoys distance running and playing the ukulele and electric bass.
---
Dr. Anne Castro, DVM: Veterinarian
Dr. Castro is a 1994 graduate of UC Davis School of Veterinary Medicine. After years of doing relief work all over Sonoma County we were lucky to be the hospital where she landed. She has been a supportive constant during the last couple years and has been a vital addition to our staff. Dr. Castro has a strong love for caring for senior cats and has a special place in her heart for her rescue pups at home. The joys of her life are her two beautiful children, Hallie and Carl.
---
Amanda: Practice Manager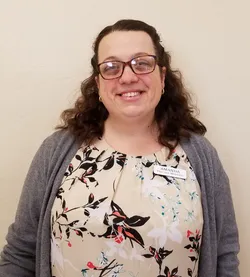 Amanda lives in Guerneville with numerous plant friends. She attended UC Davis and graduated with a degree in Animal Science in 2009. At home, she has three kitties, Cooper, Penelope, and Bonzai, and a little senior chihuahua, Petrie. Amanda is a friendly face that is always willing to help!
---
Erin: Treatment Manager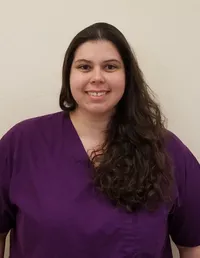 Erin was a young Petaluma transplant doing most of her growing up here. We first met her when she started volunteering with us in 2000 at age 15, hired in 2004, and has been with us ever since. At home she has a gaggle of cats that includes Nell, Miki, Tyrone, Tanzi, Charlotte, B-Dubs, oh, and her husband. She can often be seen volunteering or reading in her free time.
---
Nikita: Registered Veterinary Technician
Nikita grew up in Petaluma and has been employed here at Brandner Veterinary Hospital since 2008. In January of 2014 she passed the state boards to become a Registered Veterinary Technician (RVT). At home she has two lovely kitties, Marlo and Marshmallow, and a rambunctious pup named Bean!

---

April: Receptionist

April moved to Petaluma in 1993 with her family. An experienced business owner of various endeavors, she has decided to take a different path in life, joining us in December 2013. She is very happy to be with us and has enjoyed getting to know each of our clients. At home, she has a dog named Ellie and a kitty, Katie. April loves spending time tending to her garden and equally doing crafts!
---
Brittany: Veterinary Assistant
Brittany is back! She has returned to us after years of both college and working in child welfare. She is working as our technician assistant with our treatment team. We are so thankful for her saving us during the pandemic. It is so nice to have someone so compassionate, hardworking, and beloved in the Brandner house again. She has 3 kitties, Iris, Gidget, and Linus, as well as a senior chinchilla, Romeo. Her interests include camping and plants!

---
Nikki: Receptionist
Nikki joined the Brandner Family in 2021. She is an essential addition. This Napa native has thoroughly embraced Sonoma County and, not only that, but has been an amazingly quick learner on the job in regards to all the important ins and outs of veterinary medicine. At home, she has a sweet cavalier pup, Grizzly, and loves to pamper him. Nikki loves coffee and hanging out with the crew.
---