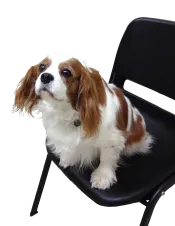 Brandner Veterinary Hospital offers a friendly environment for you and your pet. Whether you are coming to us for your pet's wellness exam, urgent care, surgery, or follow up appointments, we are here to help. Our receptionists check in your pet for their visit, schedule appointments, fill prescriptions and attend to your questions or concerns.
An appointment usually takes 15 to 30 minutes per pet. Check in and check out may take an additional 5-10 minutes. If you are a new client or have a new pet, please come in 5 to 10 minutes prior to your scheduled appointment to fill out paperwork.
Upon arrival please make yourself comfortable in our waiting room. For the safety of your pet and others, please keep dogs on a leash and cats, rabbits, and smaller pets in a carrier. While you are waiting you may enjoy EmebaVet, which is a television broadcast channel that presents information about pets or utilize our free WiFi.
Once you and your pet have been brought into one of our 3 exam rooms, our veterinary assistants will get a current weight and body temperature on your pet. They will also assist you and the doctor in anyway needed. Some procedures will need to be performed in other areas of the hospital, such as our central treatment room and x-ray room.
If needed or desired we are proud to work with an exceptional selection of specialists in and around our area. These include, but not limited to, surgeons, neurologists, internists, radiologists, cardiologists, and ophthalmologists. For the benefit of our patients and the convenience of our clients, ultrasonography and many types of surgery can be performed in our hospital by mobile specialists.
We strive to offer the best care for your pets.